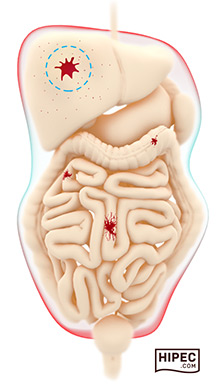 HIPEC Treatment of Patients with Peritoneal Cancer
Each year, many patients worldwide are confronted with a diagnosis of "peritoneal cancer". This includes patients with rare diseases such as malignant mesothelioma and pseudomyxoma peritonei (PMP). More often, peritoneal cancer arises from metastases from a cancer elsewhere in the body.
Not so long ago, peritoneal cancer was very hard to treat and the prognosis for these patients was very poor. Fortunately, the treatment for patients with peritoneal cancer is evolving and improving. Treatment, which may include HIPEC in select patients, is challenging and complex. Optimal treatment ideally requires a team of medical specialists having expertise in peritoneal cancer and HIPEC surgery.
This website aims to inform patients and physicians about peritoneal cancer and possible treatment. One of these treatments is the surgical removal of all visible tumor in the abdomen followed by a "bath" of heated chemotherapy. In medical terms this is referred to as cytoreductive surgery (CRS) and hyperthermic intra-peritoneal chemotherapy (HIPEC).
About Peritioneal Cancer Treatment options
LATEST NEWS
Today, January 17th 2018, a study was published in the New England Journal of Medicine showing a significant improved survival of patients suffering from advanced ovarian cancer when they were treated with HIPEC. On average, patients that were treated including HIPEC lived 12 months longer than patients without HIPEC. The addition of HIPEC to the treatment did not result in more complications or treatment-related death. The study was carried out in the Netherlands by Dr Willemien van Driel and co-workers. According to oncological surgeon Dr Ignace De Hingh (contact), president of the Dutch Peritoneal Oncology Group and one of the co-authors,  this study marks a big step forwards in the treatment of ovarian cancer patients. "This is a very encouraging result and we are now looking for ways to implement this treatment in the Dutch healthcare system".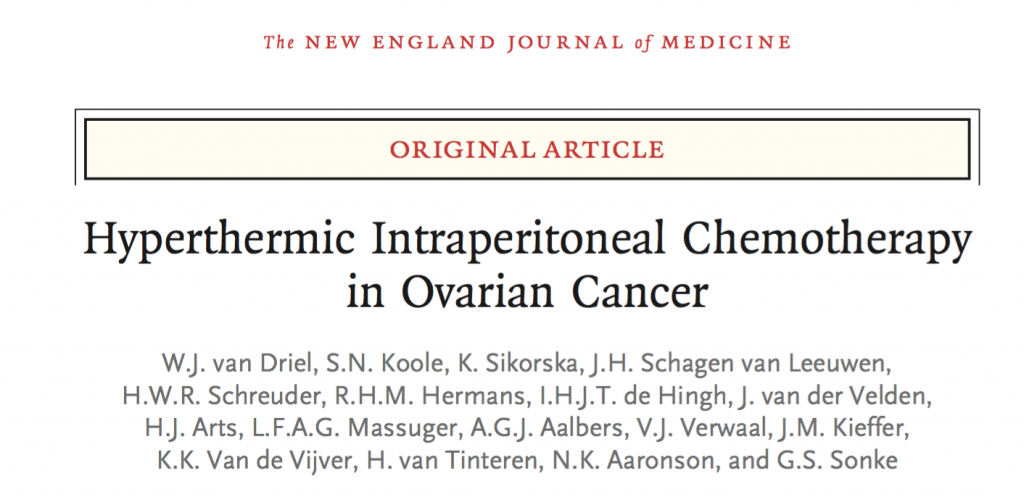 Read the abstract of the study here